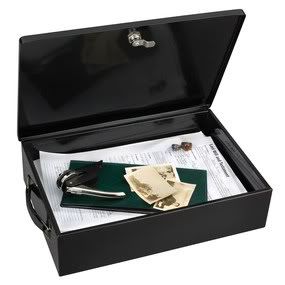 This month Master Lock has two new programs on the go - both which I believe are very important. October is both Crime Prevention Month and Breast Cancer Awareness Month and Master Lock has joined the forces to support and aid families and individuals in both these areas...let's take a peek at some of the details and tips they have to offer us...
Crime...sadly, it's so prevalent these days. Simple things like locking your doors at all times are a must now. Master Lock knows how important it is to keep families safe, and has come up with a list of tips to help families to prevent and deter crime. Here's a taste of their useful tips:
~ Lock up Everything.
Whether you're at home or away from home, all entry points should be locked and your more valuable items should be stored in secure areas. Master Lock's security products such as the locking storage boxes, key safes, etc. are perfect for this. Every family member, including children, should know how to secure everything from windows and doors to garages and sheds.
~ Limit availability of personal information.
When on the go, carry only what you need. (so no social security cards, birth certificates or passports! If possible, remove your name from marketing lists to reduce identifying junk mail and shred credit card offers that still come through to decrease the chance that your personal information could be accepted on your behalf by a stranger. You may even want to consider storing confidential data and information in a secure, online location where only you have access, such as the Master Lock Vault.
~ Trust your instincts.
If a specific person or place causes you to feel uneasy, avoid the situation by removing yourself completely, and alert authorities if a suspicious person is lurking in your neighborhood.
As a part of Crime Prevention Month we received a
Storage Security box
. It is a good size security chest that is fire proof and made of heavy duty materials. It can be locked to secure your personal items, and is a great option for keeping highly valuable items or documents safe and sound in your home.
As I mentioned above, October is also Breast Cancer Awareness Month, and Master Lock has come alongside this great cause with some fabulous pink products! There is a great selection of pink locks that are perfect for using at the gym, school, home etc. Not only has Master Lock created this great line of
pink products
, but they are also Giving through Gaming! Master Lock has created a
facebook game
that families can play to raise money for the cause...so it is as fun and simple way for YOU to become involved! It basically comes down to we play and Master Lock gives. They will donate $0.01 per corresponding level achieved - up to a maximum of $25,000! If you would like to make an even bigger impact toward 'unlocking a cure' for breast cancer, you will also have the opportunity to make your own donation via a link on the
game page
.
WIN IT!
Master Lock is giving away a
Security Storage Box
to a Glimpse Reader! In order to enter, please follow the instructions on the form below.
**Disclosure: The product/s mentioned above have been given free of charge from the company or PR firm in exchange for being featured on Glimpse. The opinions expressed in this post are those of Glimpse and have not been influenced in any other way. Please see the full Terms of use.